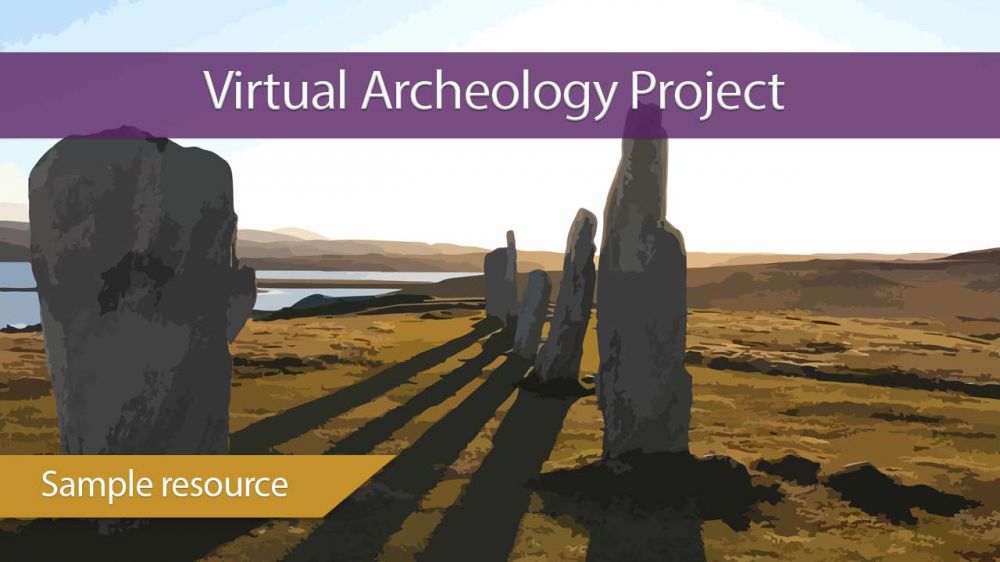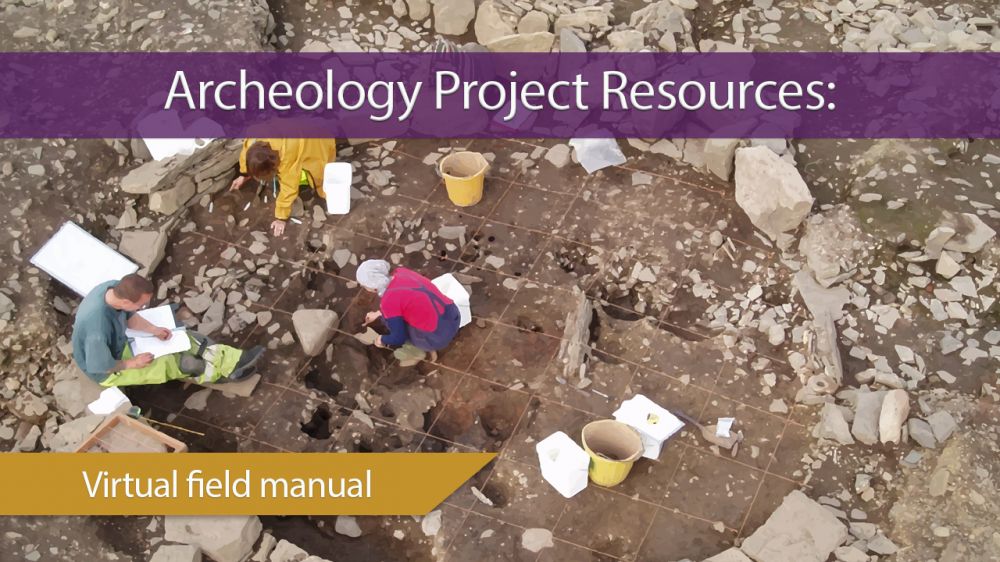 Types of archaeological fieldwork
Archaeological fieldwork falls into two main categories; intrusive and non-intrusive fieldwork. This manual will outline the principal roles and theories behind both of these broad fieldwork areas, as well as some of the processes involved and core skills.
Download an accessible Word doc version of the diagram

Some fieldwork methods are used primarily by commercial archaeologists, some are more appropriate for research and others are particularly useful in a rescue archaeology context. In practice, most professional field archaeologists will have experience of a wide variety of these methods.
Click through the tabs below to read more about research, commercial and rescue contexts.
UHI Archaeology Institute students investigating a hearth during a research excavation project at The Cairns, South Ronaldsay (photo courtesy Martin Carruthers ©UHI Archaeology Institute)
Research fieldwork is carried out largely by university affiliated researchers, independent academics and (increasingly) by community groups or organisations interested in their local heritage (Community Archaeology). Research fieldwork is usually driven by research questions and project aims and objectives that seek to address gaps in current knowledge or understanding. For example, research questions might address gaps and recommendations identified in the Scottish Archaeological Research Framework (ScARF) panel reports. Research projects will employ a variety of fieldwork methods in order to fully address the research aims and objectives. This can include a variety of field survey methods. Research projects are most commonly associated with open-area excavations. Fieldwork constraints are primarily funding, rather than time, related.
Professional Archaeologists undertaking an evaluation excavation to assess the archaeological potential of a development site. Mechanical excavators are often used to remove the topsoil. Image: Orkney Research Centre for Archaeology.
Commercial fieldwork is carried out by commercial archaeological units and individuals (sometimes called developer-funded archaeology). Commercial fieldwork is usually carried out to fulfil planning policy guidelines. The scope of the fieldwork will be outlined by Local Authority archaeologists, planning departments or statutory bodies responsible for heritage resources (for example Historic Environment Scotland). Commercial archaeologists will employ a variety of fieldwork methods in order to fulfil client and local or national authority requirements. Commercial fieldwork usually needs to fit with the client's and/or the developer's timetable and budget. Therefore, commercial fieldwork methods are constrained by time and cost. Most frequently, commercial fieldwork is associated with geophysical surveys, walkover surveys, archaeological monitoring ('watching briefs') and intrusive evaluation excavation.
Rescue fieldwork is carried out where the archaeological resource is under immediate or imminent threat, usually from environmental factors. Across Scotland, rescue fieldwork is most commonly carried out in response to coastal erosion. Rescue fieldwork is carried out by commercial units and individuals, researchers and academics and community groups. Time is the major constraint for most rescue fieldwork projects. Archaeologists also need to ensure that fieldwork methods do not exacerbate any threats to the archaeological resources. For example, it may not be appropriate to carry out open an area excavation if this will cause further erosion issues. In many cases, speedy investigations and recording methods are essential. Where time and funds are available, open-area excavation, evaluation and monitoring are appropriate methods.
SCAPE website
The SCAPE Trust carries out rescue fieldwork across Scotland where sites are threatened by coastal erosion, using a combination of commercial teams, researchers and community groups. See the
SCAPE website
for more details.
Fieldwork principles (theory)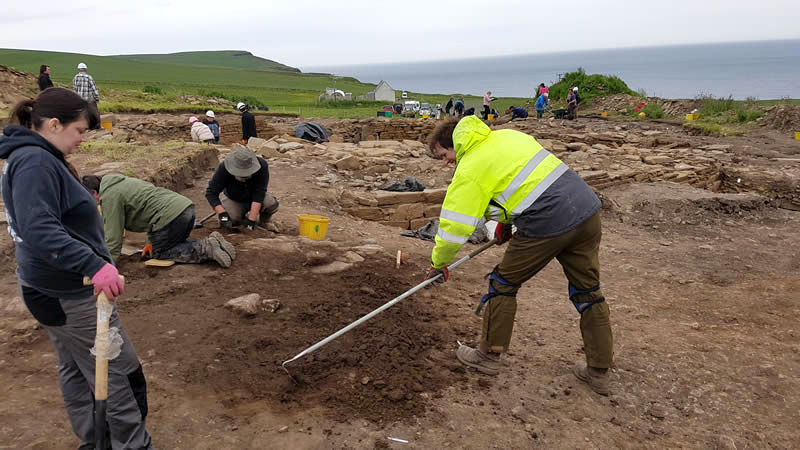 UHI Students and staff working at The Cairns excavation, South Ronaldsay. / © UHI Archaeology Institute
Archaeological fieldwork is based on theories about how archaeological sites form and how material finds its way into the archaeological record. Fieldwork recording processes, specifically a single-context recording system, are rooted in an understanding of stratigraphy and context. These core principals will be outlined in the following section.
Formation processes
In order to understand the processes involved in intrusive and non-intrusive archaeological fieldwork, we need to understand how sites come to be preserved in the archaeological record. The various ways in which archaeological sites are formed are referred to as site formation processes.

Click on the '+' symbols on the timeline to see a larger image and more information.
All images Uist Archaeology (used with permission) unless stated otherwise.
Health and safety
Health and safety is an important consideration for all types of archaeological fieldwork. Establishing a safe working environment for employees, students, volunteers and visitors is a legal requirement and everyone who works on an archaeological site is responsible for helping to maintain these standards. On a commercial or developer-funded project, it is important to liaise with the client to ensure that your health and safety practice conforms to the developer's health and safety procedures on site. Remember! On a commercial site, the working environment might include large machinery, hazardous substances, deep sections and unstable ground that needs to be accounted for in your health and safety policy and risk assessment. You should have a health and safety briefing as part of your site induction before you start work on any site.
Archaeological excavations take place outdoors, often in rather inhospitable environments and in all sorts of weather conditions. Some of the most significant risks to your personal health and safety can be addressed by being appropriately dressed and well prepared. If you are working alongside machinery or are working on a commercial development you will need to have certain personal protective equipment (PPE).
The picture below shows two archaeologists dressed appropriately for a day on site. Rollover the image to identify the five main items of protective clothing.
Photo courtesy of ORCA
Health and safety
Remember sun cream and insect repellent!
The excavation site itself poses a number of other health and safety risks. The majority of these relate to tripping, falling and collapsing material. The picture below contains seven potential health and safety hazards on the Cairns site in Orkney.
A risk assessment must be carried out in advance of all fieldwork; it is a legal requirement and failure to do so will put people at risk and invalidate any liability insurance. A risk assessment is a document which identifies all potential hazards on the site and the associated risks that these present. An assessment is made of the relative probability of an accident occurring and the severity of each potential accident. Mitigation measures are stated to minimise these risks. For example, the risk of falling into a deep excavation area, which could cause severe injury, can be reduced by erecting fencing or barrier tape with relevant signage.
The risk assessment also identifies actions, responsibilities and procedures for avoiding accidents and dealing with accidents should they occur. First-aid provisions and qualified first-aiders need to be organised and identified in accordance with the risk assessment. Thought also needs to be given to amenities such as toilets and handwashing facilities.
Here is an Excavation Risk Assessment example document designed for a beach excavation.
Fieldwork techniques: Finds recovery
During an open area or evaluation excavation, the aim is to maximise artefact recovery within the remit of the agreed excavation strategy, to characterise each context and contribute to the understanding of site chronology and phasing. When you are excavating a feature keep a watchful eye open for artefacts and other types of archaeological material.
If you are using a trowel you should expect to find material easily. If you are using a less sensitive tool, for example, a mattock, it is a good idea to look through the soil carefully before it is discarded on the spoil heap. Some deposits will also be dry sieved on site to maximise finds recovery. Ask your supervisor about this.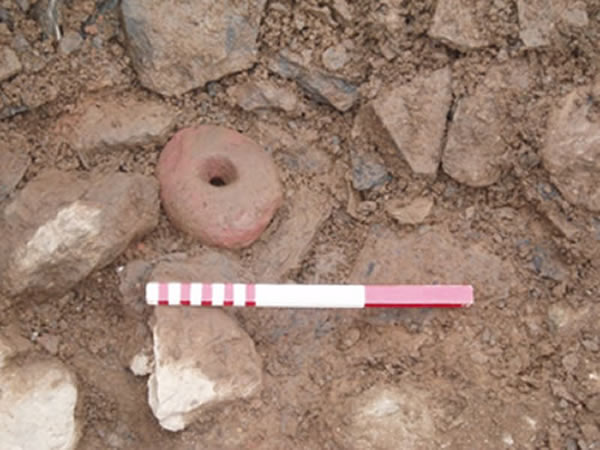 Example of a stone tool / Martin Carruthers © UHI Archaeology Institute
Video
In the following link, Martin Carruthers talks about some of the finds recovered during the UHI excavations at The Cairns in South Ronaldsay. The video gives you an idea of the variety of materials and artefacts you are likely to encounter on an excavation project:
Finds from the Cairns excavation 2016, with Martin Carruthers (15 minutes, 34 seconds) Finds from The Cairns excavation 2016 with Martin Carruthers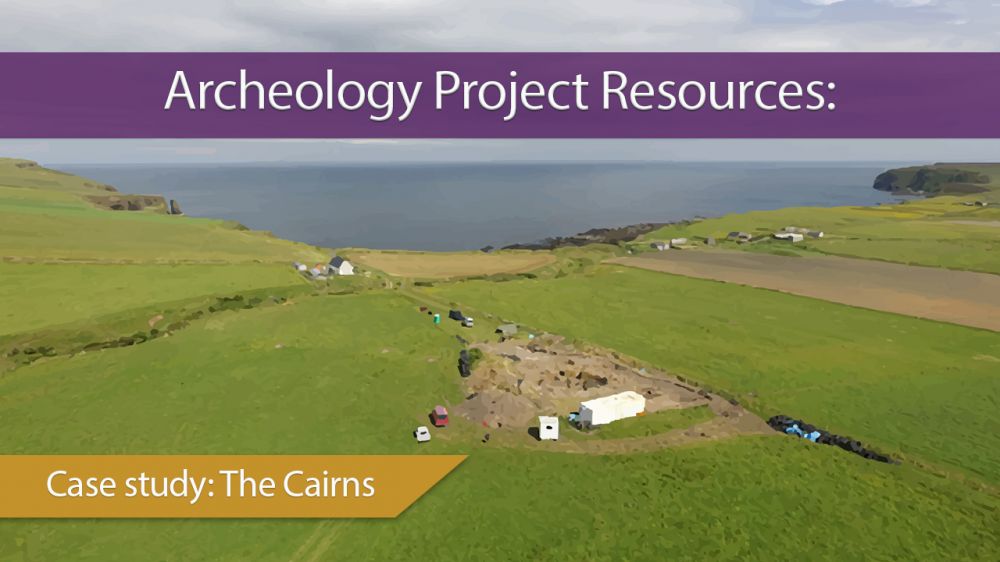 Where is The Cairns?
The Cairns broch is located in an arable field near Windwick bay, on the eastern side of South Ronaldsay, Orkney (ND 4542 8688). Situated on a broad south-east facing slope, the site commands views across a large coastal basin, with wetland area Blows Moss in the base, rising up to Gairy Hill to the south. The Burn of Stane runs down to Windwick Bay north of the site.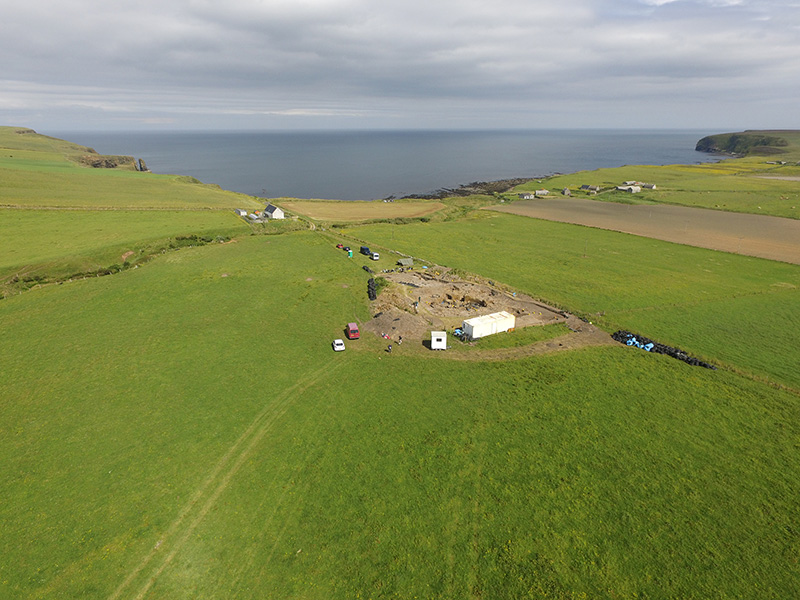 View across The Cairns site, set within the coastal basin, looking east to Windwick bay. Image: Bobby Friel @TakeTheHighView, used with permission.
The Cairns overfly in 2019. Video: Bobby Friel @TakeTheHighView, used with permission. (no sound).
The Cairns is situated within a multiperiod landscape, with evidence for most periods. Prehistoric sites in the area include a burnt mound and souterrain at Mossetter, a souterrain at Windwick, a promontory fort at Brough of Windwick, and prehistoric burial mounds to the north, including the one at Broll. In Blows Moss wetland, a flint dagger has been found and recent palaeoenvironmental sampling has identified evidence of vegetation change, cereal cultivation and animal grazing throughout later prehistory. Later agricultural systems are evident with medieval and post medieval rig and furrow cultivation, for example at Bow and farmsteads.
Introduction to the site
The Iron Age period in Orkney (c.800BC-AD800) offers a substantial and challenging archaeological resource. Traditionally, most academic discussion on the Orcadian Iron Age has revolved around the role and development of the monumental brochs. Arguably this has led to the neglect of a wider range of monuments and features dating to the 'long Iron Age' and the reification of the broch as the fundamentally important site type of the Scottish Iron Age. Brochs existed within a long, dynamic and changing period, and it is the fuller story of the development and inhabitation of Scottish Atlantic architecture which guides the project centred on the site of The Cairns, near Windwick Bay, South Ronaldsay.
The fragmentary picture of Iron Age Orcadian social life that we are currently working from can be addressed by attention to non-broch monuments such as the roundhouses (both substantial and more modest examples), the earth-houses/souterrains (finely built underground structures), broch-period villages, and later Iron Age (post-broch) settlements to build fuller and more rounded accounts of the many built places inhabited by Iron Age Orcadians.
The Cairns project has a broch at its heart but the fuller biography of the site within its landscape is given priority.
The project aims to:
investigate the circumstances of the construction, multi-phase use, and abandonment of a major Iron Age (broch) roundhouse and associated complex of buildings and feature areas

understand the relationship between the site of The Cairns and its landscape at a variety of levels, and the relationship between the site and the other ancient built places within that landscape

investigate later prehistoric subterranean structures to obtain fresh evidence for how and why these structures were built and used and to make a useful comparison with the Windwick souterrain that we have previously excavated.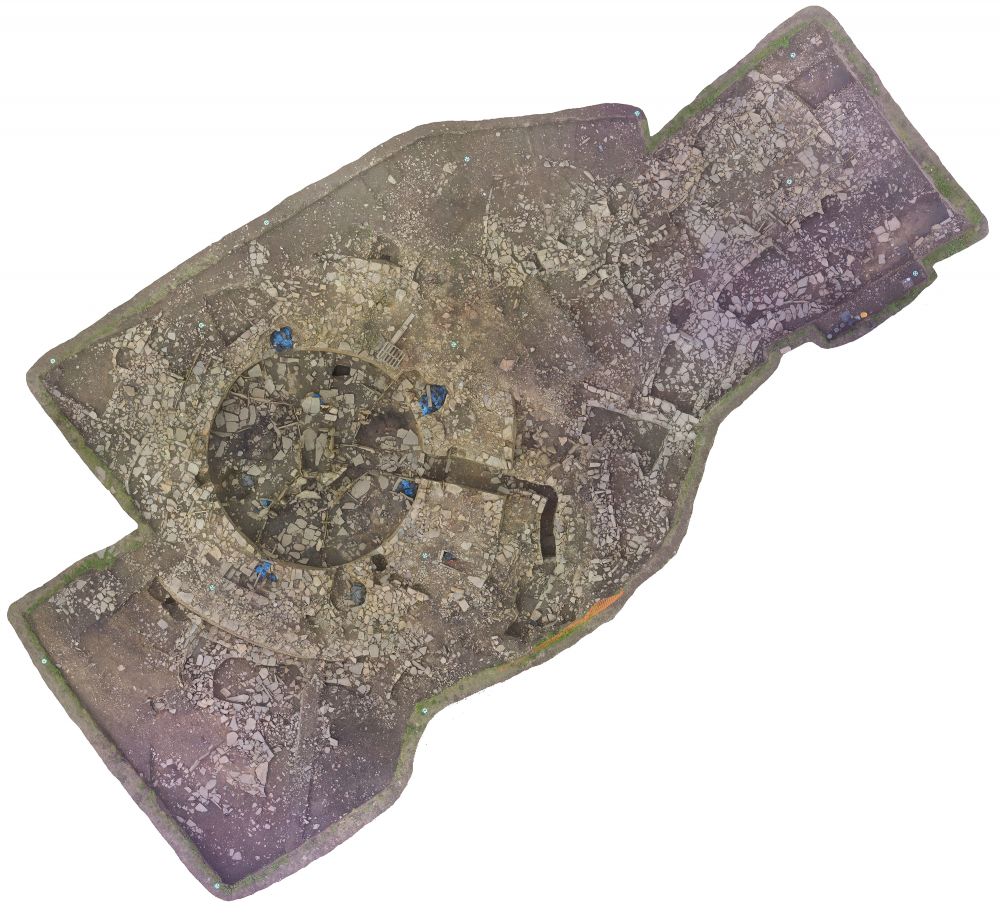 Vertical aerial view of The Cairns in 2019 showing the main structures. Image: © Bobby Friel @TakeTheHighView / UHI Archaeology Institute, used with permission. Click to enlarge.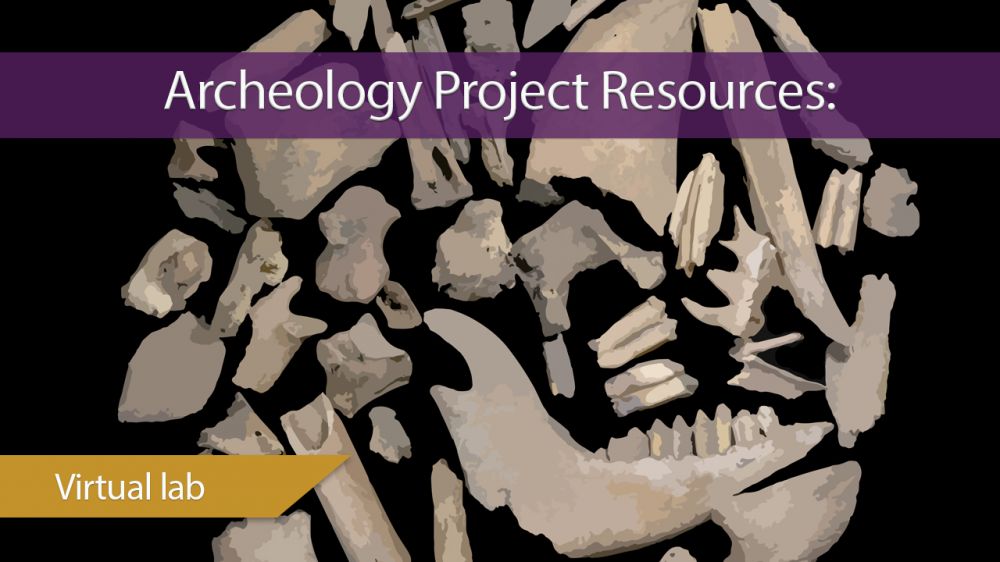 Basic animal anatomy quiz
Question 1
Provide the element names for each of the labelled bones.
Question 4
Provide the element names for each of the labelled bones.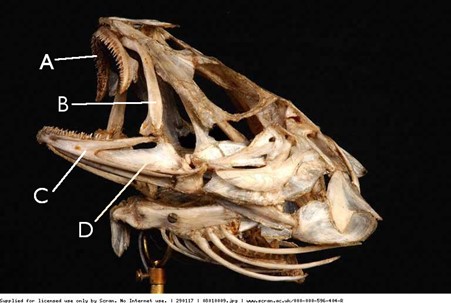 Statistics quiz
A 32 question quiz to take after you've watched the Science of Numbers narrated PowerPoint video, or to take if you are familiar with basic statistics and you would like to test your knowledge.