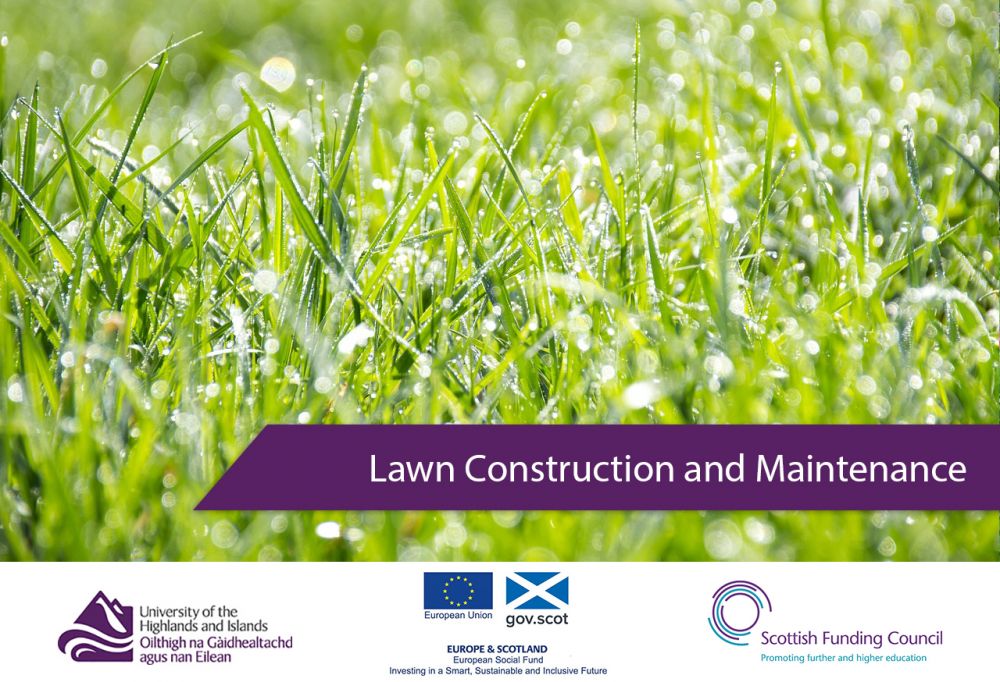 Function of lawns
Activity
Look through the photos below and think about:
the different functions which a lawn might need to have

the implications of these functions for how hard-wearing the lawn needs to be – what damage might be done to the grass by this function?
Structure of a lawn
A lawn is made up of several layers:
It is important to prepare each layer properly when constructing a lawn so that the lawn is hard-wearing, does not become covered in moss and weeds and does not become waterlogged or die from drought.
Grass species and cultivars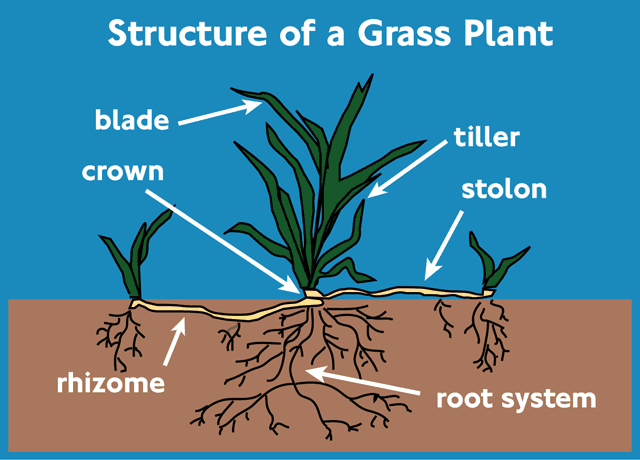 Wackymacs Wikipedia / CC BY-SA
Terminology:
Blade = grass plant leaf
Tiller = side shoot
Crown = the swollen base of the plant where the leaves connect to the roots
Stolon = a runner which grows on top of the soil surface and sends up young grass plants
Rhizome = a runner which grows under the soil surface and sends up young grass plants
Root system = a grass plant's roots
Just like other plants, there are many species and cultivars of grass.
Different types of grass have different characteristics:
different leaf sizes and widths

different leaf colours

some gasses form dense clumps and others spread thinly over a large area

different grasses flower at different times

different grasses prefer different growing conditions e.g. some like wetter soils, some prefer dry, some like full sun whilst others prefer shade
Seed mixtures
Companies that supply grass seed make up different mixes which contain different species and cultivars of grasses which are suited to different uses and different growing conditions:
The grass mixes used for animal grazing are different from those used for lawns and sports fields.

The grass mixes for shady lawns are different to sunny lawns, or wet or dry lawns.
Activity
Visit Boston Seeds webpage, click on each of the grass seed mixtures for lawns and read about the different types of grasses that are included in each mixture and what functions and conditions each mix is suited to.
Lawn construction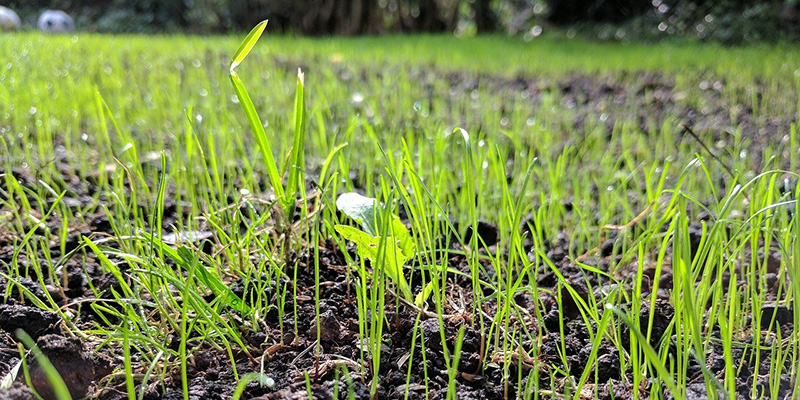 Pixabay / Licence
The techniques used to construct lawns differ depending on their use and the types of grass that are going to be used. The construction of a bowling green which requires very short grass and an absolutely level surface is more complicated, expensive and labour intensive that the construction of a garden lawn.
When planning the construction of a lawn the following should be considered:
What type of soil is currently on the area? How deep is it?

What are the current drainage conditions?

What is the aspect of the area? How much sun/shade does it get?

What is the annual rainfall of the area? (Drainage for lawns on the west coast of Scotland is a much more serious undertaking than drainage for lawns on the east coast!)

What is the lawn going to be used for?
Once all those questions have been answered a suitable construction plan and quote can be written.
Drainage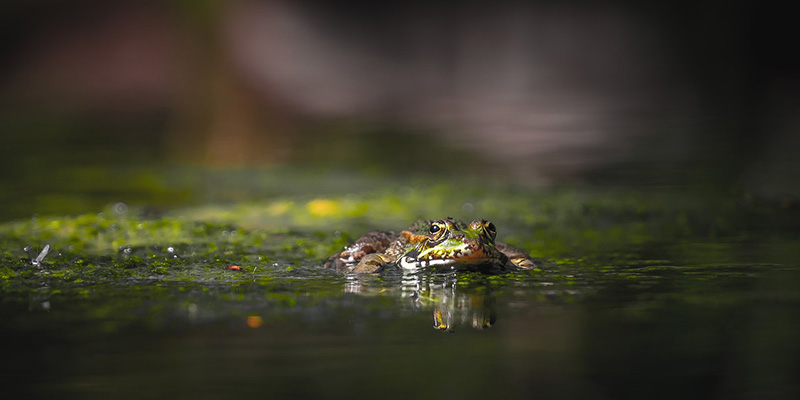 Pixabay / Licence
Most lawns which are constructed in Scotland require some form of drainage.
If a lawn area is being constructed from scratch then an ideal drainage solution is to lay a free draining sub-base. This means that the whole lawn area has a continuous drain underneath it.
Sub-base drainage:

This type of drainage system works well for clay or peat soils. In areas of very high rainfall, the soil layer can be made from half soil and half sand to improve the drainage further. In drier areas, some organic matter may be included in the soil layer to retain water in drought conditions.
French drains:
This is a system of laying perforated pipes into trenches which are dug into the sub-base and filled with gravel. They work effectively for sandy and loamy soils but not for peat or clay soils because the water doesn't flow quickly enough through the soil between the drains which means you get stripes of wetter and drier areas and an uneven lawn surface.
Video activity
Watch this video which shows the construction of a French drain:
How do I create a French drain? | DIY Basics (YouTube 1:10)
Topsoil
Video activities
Watch this video from a topsoil supplier which describes the desirable qualities of topsoil:
Selecting the right topsoil | Rolawn (YouTube 5:11)
Some sites already have good topsoil in which case the soil should be prepared as follows:
Make a lawn using seed with Alan Titchmarsh | Waitrose & Partners (YouTube 8:42)
Establishing seed
Video activity
Watch this video from a lawn seed supplier which describes how to prepare a seedbed and sow a simple garden lawn:
How to sow a new lawn - Gro-Sure (YouTube 2:35)
Activity
Using grass seed supplier websites which give suggested sowing rates, calculate the quantity of grass seed required for a 5m x 10m lawn.
Establishing turf
Video activity
Watch this video which describes how to lay turf:
How to lay turf [expert guide] (YouTube 3:28)
Lawn care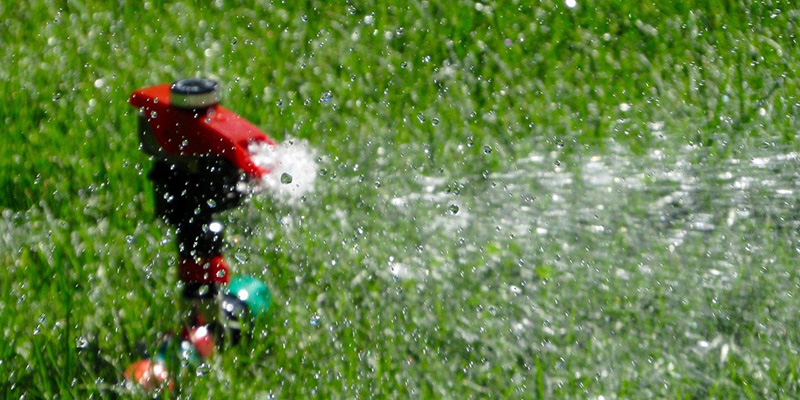 Pixabay / Licence
Once a lawn has been constructed it is important to provide aftercare and maintenance so that the grass plants establish well, sending roots well out into the soil and thickening up to provide an even green surface. Some maintenance procedures, such as mowing need to be carried out weekly or even more often in the summer and others are annual jobs like top dressing.
Lawns in drier areas or lawns laid on sandy soils may need an irrigation system.
Mowing
Grass plants grow from the base, pushing the leaves up from the crown which is at soil level. If the leaves are regularly chopped off by mowing then this prevents the grass plant from growing tall and then producing flowers and it also encourages the plant to produce more tillers (side shoots). A grass plant with lots of tillers forms a clump which thickens the lawn, covering the soil.
Regular mowing is key to a good quality of lawn and there is a wide range of lawnmowers available which are described on the following pages.
Push reel mower or hand-propelled mowers
This type of mower does not have an engine, the cutting mechanism is put in motion by the user pushing the mower along.
Pros:
No electrical connection required

No fuel required

Little maintenance required

Compact size = easy storage

Few moving parts and no engine to break down

Quiet
Cons:
Does not collect the grass

Does not cut the grass into small pieces (mulch) so longer grass may require raking up after cutting

Hard work to push cut large lawn areas

May take several passes to properly cut an area
Video
Scotts classic push reel lawn mower, Organic Lawncare (YouTube 4:12)
Cylinder mowers
Cylinder mowers have a similar blade arrangement to the push reel mowers in that the blades are arranged around a turning cylinder, but they are powered by an electric or petrol engine. This type of mower is used on golf course greens, bowling greens and formal lawns.
Pros:
Creates stripes by laying the grass down which can be desirable for formal lawns

Can cut grass very short

Cuts the grass into small pieces and mulches them back down into the grass which feeds the lawn
Cons:
Doesn't cut well on steeper slopes or uneven surfaces

Fuel or electric cord and nearby power point required

Expensive to buy
Video
Creating a beautifully striped lawn with a cylinder mower (YouTube 7:35)
Rotary mowers
Rotary mowers have a single blade which spins around horizontally under the mower. They have four wheels and you can raise or lower the deck to change the cutting height.
Pros:
Cheaper to repair and replace parts than cylinder mowers

Mulch or grass collection options

Better at cutting rough or tall grass than cylinder mowers

Cheaper to buy than cylinder mowers
Cons:
Electric cord and nearby power point or fuel required

Does not cut wet grass well

Does not cut right to the edge of the deck which can leave uncut sections along fences or walls

Does not produce stripes

Does not cut as short as a cylinder mower
Video
Reel mower vs rotary mower - Best lawnmower 2020 (YouTube 7:59)
Hover mowers
Hover mowers force air down which lifts the deck so that they hover over the surface of the ground so that they don't require wheels.
Pros:
Adapt well to uneven ground surfaces

Can move in any direction for difficult shaped lawns

Easiest to use on steep slopes

Cheaper to buy than other mower types
Cons:
Electric cord and nearby power point or fuel required

Does not cut wet grass well

Does not cut right to the edge of the deck which can leave uncut sections along fences or walls

Does not cut as evenly as other types of mower as some of the grass is blown flat by the downdraft
Video
How does a hover mower work? (YouTube 1:32)
Automatic or robot mowers
Robot mowers automatically mow the grass very regularly, in fact daily when it isn't raining. This means that they cut off only a very little at a time and the short clippings mulch the lawn. A perimeter is set up by pinning a wire down to the ground and the mower cuts the whole area evenly and returns itself to its base unit for charging or when it is raining. They are expensive to buy but in the long run can be cheaper than paying for someone to mow the lawn.
Videos
Professional robotic mower - How it works (YouTube 3:10)
Remote control mowers are used on very steep slopes that would be impossible to cut with a ride on mower.
ROBOGREEN Remote controlled slope mower (YouTube 6:00)
Fertilising
Like any other plant, grass plants need enough nutrition to grow. A hungry lawn will look yellow as it becomes deficient in nitrogen.
Video
This video describes an effective lawn fertilising method which can be carried out once a year:
How to feed a lawn (YouTube 2:00)
Scarifying
Scarification removes moss and dead grass from the lawn. It can be carried out by hand with a spring-tine rake or with a scarifier machine.
Video
This video explains how to prepare a lawn for scarification and then how to carry out the scarification:
How to scarify a lawn (YouTube 8:20)
Top-dressing
Top-dressing is the process of spreading sand, fertiliser or soil onto the surface of a lawn and is carried out annually. The top-dressing material applied should be tailored to the needs of the lawn.
Video
This video demonstrates how to top-dress a lawn:
Lawn care - top-dressing applications (YouTube 3:22)
Aerating
Pixabay / Licence
Aerating is a process which reduces compaction in a lawn and adds air pockets to the soil which improves grass growth.
This can be carried out on a small area using a hand fork as in the picture above but the best method for larger areas is to use a hollow tine aerator which can be manual or engine powered.
Videos
This video shows a manual hollow tine aerator:

How to aerate, spike & hollow tine a lawn (YouTube 4:40)

This video shows an aerator machine:

CAMON LA20 lawn aerator - Tracmaster Ltd in UK (YouTube 1:52)

Aerator shoes can be used and are quick but are less effective than the other methods as the tines don't penetrate very deep into the soil:

How to aerate your lawn (YouTube 1:39)
Reseeding and repair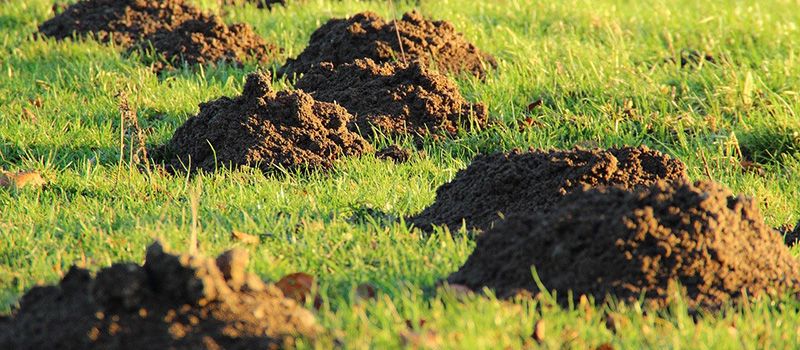 Pixabay / Licence
Sometimes areas of a lawn can be damaged by:
Moles

Drought

Flood

Animals digging

Machinery

Wear from walking e.g. along a particular route to the washing line

Overgrown plants
Video
In this video Alan Titchmarsh explains how to repair damage to lawns:

How to repair & protect your lawn with Alan Titchmarsh | Waitrose & Partners (YouTube 4:51)