Introduction
Introduction

This case study represents a family currently living in Scotland and identifies specific circumstances which affect them all as individuals and as a family unit.
Objectives:
At the end of this case study, you will be able to:
Recognise and discuss developmental stages within the family
Identify issues which may influence the health and wellbeing of individuals within the family
Compare and contrast the role of nature/nurture in determining behaviour and development
Describe the role of practitioners in supporting the family
Demonstrate an understanding of policy underpinning quality of care
Relate relevant theory to practical contexts
Academic Skills
You will see links to academic skills materials on the right. You may use or reference any of these as you feel are appropriate to working on this activity.
Professionals
---
Health care

Midwife

Midwives often describe their job as 'privileged'. The role they have in preparing women for the delivery of new life makes them a vital presence during all stages of pregnancy, labour and the early postnatal period.

More midwives now work in the community, providing services in women's homes, local clinics, children's centres and GP surgeries. They may hospital based working on antenatal, labour and postnatal wards and neonatal units.

Being a midwife is much more than delivering babies. They are involved in antenatal and postnatal care, in counselling, in offering support and education, and helping families prepare for parenthood.

Paediatrician

The paediatrician is a qualified doctor who works in neonatal and paediatric intensive care. Also in the management of the disabled child, as well as the organisation of preventative services in the community and the intensive treatment of the child with cancer.

It is a holistic specialty, which focuses on the child within a family, working to minimise the adverse effect of disease and to allow children to live as normal a life as possible. The concept of multi-disciplinary team working is advanced, providing integrated packages of care.

Health Visitor

Health visitors support and educate families from pregnancy through to a child's fifth birthday. Common tasks include:

offering parenting support and advice on family health and minor illnesses
new birth visits which include advice on feeding, weaning and dental health
physical and developmental checks
providing families with specific support on subjects such as post-natal depression.

Health visitors are trained in recognising the risk factors, triggers of concern, and signs of abuse and neglect in children. They also know what needs to be done to protect them. Often, they are the first to recognise whether the risk of harm to a child has increased to a point where actions needs to be taken to protect them. They'll also maintain contact with families while formal safeguarding arrangements are in place, ensuring families receive the best possible support during this time.

They also spend a lot of time working with other agencies and healthcare professionals who share a common commitment to children's development. These include:

GPs
allied health professionals
early education settings
voluntary agencies

General Practitioner – GP

GPs are the first point of contact for most patients. The majority of the work is carried out during consultations in the doctor's surgery and during home visits.

GPs provide a complete spectrum of care within the local community: dealing with problems that often combine physical, psychological and social components. They increasingly work in teams with other professions, helping patients to take responsibility for their own health.

They attend patients in surgery and primary care emergency centres if clinically necessary, visit their homes and will be aware of and take account of physical, psychological and social factors in looking after their patients.

GPs call on an extensive knowledge of medical conditions to be able to assess a problem and decide on the appropriate course of action. They know how and when to intervene, through treatment, prevention and education, to promote the health of their patients and families.

Speech and Language Therapist

Speech and language therapists (SLT) assess and treat speech, language and communication problems in people of all ages to help them better communicate. They'll also work with people who have eating and swallowing problems. SLTs assist children and adults who have the following types of problems:

difficulty producing and using speech
difficulty understanding language
difficulty using language
difficulty with feeding, chewing or swallowing
a stammer
a voice problem.

Child care

Early Year's Practitioner - EYP

The EYP should be qualified at level 7 and registered with the Scottish Social Services Council (SSSC).

EYPs work in nurseries and early learning and childcare settings. They are responsible for implementing the Curriculum within the setting; supporting the children and working closely with families as well as maintaining all the relevant paperwork required for record keeping. Some practitioners may be registered and in practice but still working towards their SVQ 3 qualification.

As the EYP becomes more experienced and their responsibility increases they may want to undertake their level 9 qualification in Childhood practice which will allow them to operate as the manager or professional leader of the setting.

Primary School Teacher

Primary school teachers develop schemes of work and lesson plans in line with curriculum objectives. They facilitate learning by establishing a relationship with pupils, and by their organisation of learning resources and the classroom learning environment.

Primary school teachers develop and foster the appropriate skills and social abilities to enable the optimum development of children, according to age, ability and aptitude.

They assess and record progress and prepare pupils for examinations. They link pupils' knowledge to earlier learning and develop ways to encourage it further, and challenge and inspire pupils to help them deepen their knowledge and understanding.

Pupil support assistant – PSA

PSAs help promote effective learning, teaching, personal development and create an atmosphere where pupils can achieve to reach their potential under direction and supervision in school.

They may do this by:

Supporting learning and teaching activities in the classroom
Supporting pupils during learning activities and breaks during lunchtime
Promoting positive behaviour and positive relationships
Assisting with the preparation, organisation and use of resources
Ensuring the care, welfare and health and safety of pupils
Administering and providing medical and/or personal care for pupils as required.

Educational Psychologist

An educational psychologist is concerned with helping children or young people who are experiencing problems within an educational setting with the aim of enhancing their learning.

Challenges may include social or emotional problems or learning difficulties. Work is with individual clients or groups, advising:

teachers;
parents;
social workers;
other professionals.

Client work involves an assessment of the child using observation, interviews and test materials. Educational psychologists offer a wide range of appropriate interventions, such as learning programmes and collaborative work with teachers or parents.

They also provide in-service training for teachers and other professionals on issues such as behaviour and stress management.

Social care

Community, support and outreach worker

Their work is more support based rather than direct personal care. They can provide support and guidance in various ways, including counselling, teaching people who use care and support services every day skills (such as how to cook a meal safely or make a cup of tea), organising activities with people who need care and support (such as sport or shopping trips) or simply being with individuals in their home, helping them to cope with day to day living.

These workers usually have a number of individuals that they get to know very well. Some work in residential homes although this type of role is usually undertaken within the local community or within individuals own homes.

Social worker

Social workers provide advice and emotional support to help people adjust to changes in their lives, caused by illness, age related problems, disability or bereavement.

They may also work with people who suffer from mental illnesses like depression, anxiety, schizophrenia and personality disorders.

Their job is to work out what type of care is needed and revisit people who use care services to reassess their needs over a set period of time.

They usually work as part of a team, responsible for a number of cases which all might need a different approach.

They also need to work closely with organisations such as the police, health services, schools and probation services.

Occupational Therapist

Sometimes referred to as an OT practitioner or therapist for short, this role can work with people who need care and support in the following areas:

physical rehabilitation
mental health
learning disabilities
care management
equipment for daily living
housing

They work with people to overcome the effects of their disability, and assess what treatment or equipment is needed to increase their independence. This could be physical treatment to improve their mobility or advising on equipment they need or the design of people's houses. For example, they would give advice to housing departments for a person who uses a wheelchair.

Care Worker

Care workers are supervised by a manager or senior care worker. They can work in a residential care home, domiciliary care, or out in the community. Senior care workers will often be in charge of a shift of workers and offer guidance and support to other care workers.

No two days are the same as a care worker, but some duties can include:

assisting with eating/mobility/washing/dressing
providing interesting activities for the service user to do
monitoring service users health e.g. taking temperatures and pulse rate
helping service users to live as independently as possible

Senior care manager

There are lots of different jobs which fall under the management category in adult social care, from being a supervisor or team leader to being the CEO of a care home.

Supervisors have some responsibility for the level of care an organisation provides. They supervise the work of other care and front line workers.

First line managers are responsible for the day to day provision of social care services – this means they support the staff and have a key role in ensuring that the standard of care delivered is always high.

Types of job titles which fall under this category are:

Team leaders, service managers and residential wardens.

Middle managers are responsible for overseeing the organisation and managing whole departments.

Examples of their duties include determining staffing requirements and managing budgets. Workers in this category could be area managers, managers or department heads.

Senior management workers have overall responsibility for the organisation, and their main job role includes giving the organisation leadership and direction. They have total responsibility for the quality of care provided and the health and safety of staff and service users.

Other professionals

Police officer

Police officers work in partnership with the communities they serve to maintain law and order, protect members of the public and their property, prevent crime, reduce the fear of crime and improve the quality of life for all citizens.

Police officers work closely with members of the criminal justice system, social workers, schools, local businesses, health trusts, housing authorities, town planners and community groups to provide advice, education and assistance to those who want to reduce crime or have been affected by crime.
×
Scenarios
---
Scenario 1

Birth of a new baby

It's late in the evening and the children are in bed. Sarah is watching the TV with her feet up. Being June the weather is beginning to warm up and Sarah feels quite hot and uncomfortable. She gets some 'Braxton Hicks' type pains. Sarah knows from previous experience that taking a cool bath sometimes helps. Being only 32 weeks pregnant, Sarah still has a few weeks until her due date, so she is not unduly worried.

As Sarah settles down to sleep, she begins to feel unwell. However she also knows that she will feel better after a good night's sleep. She begins to wish that Jack was home right now, he is not due back for another two weeks at least.

Around four in the morning, Sarah wakes up with a start – her waters have broken and she has a continuous pain in her back and going down her legs. Sarah knows this is the beginning of her labour and calls her mum and dad to come over. Then she calls the midwife at the birthing centre who tells her to go straight to the hospital.

Sarah's contractions quickly become regular and more intense – about every 5 minutes. She breathes through them, demonstrating what she has learnt at the ante-natal classes over the last few weeks.

When Sarah's mum Joan arrives Sarah is clearly in distress and crying. She needs to let Jack know what is happening and this is too soon for the baby to be born! Joan rubs Sarah's back and comforts her by mopping her brow. Sarah is feeling sick and dizzy. It is quite clear that Sarah is in premature labour. Dougie makes some tea and calls Jack on his mobile.

Joan gets Sarah into the car with her overnight bag, complete with notes and birthing plan, luckily Sarah has been very organised - she always is when Jack is away, just in case. They head off to the hospital and Dougie stays behind to look after the two children.

On the way it becomes clear that Sarah is already in advanced labour. As they arrive at the hospital staff are ready to take her to the labour ward. Sarah kneels up while the midwife checks the baby's progress. The baby's head is crowning and it is clearly in distress. The midwife encourages Sarah to push with the next contraction. The baby is born but is quickly monitored by a paediatrician. It is taken to the neonatal unit where it is put into an incubator.

Sarah has a beautiful baby girl Molly, 8 weeks premature and tiny – weighing only 2 pounds. She is on a ventilator but making progress. Jack was unable to get to the birth in time but he is on his way home. Sarah visits the neonatal unit every day to see Molly and hold her against her – skin to skin, so they can bond. Whilst Sarah feeds the baby with her own expressed milk, she tells her all about the family and sings songs to soothe her.

After 8 weeks Molly is able to come home. She is still very small but now a healthy 7 pounds. She still requires a lot of special care.

Scenario 2

Transitions

Zac has been enjoying his time at Toybox Nursery where he has been attending regularly since last August. He will be moving up to the primary school in August. Lately he has been a little unsettled at the nursery. Mum is expecting another baby and dad is away again. Zac has been up to the P1 class to visit his new teacher Miss Cullen on two occasions already and she has been down to the nursery reading stories to the children and supporting them with their Learning Journeys.

The practitioners at Toybox Nursery are very child-centred in their approach to supporting the children and work towards the health and well-being outcomes 'SHANARRI' within the national policy of 'Getting It Right for Every Child'. They have observed that Zac is more withdrawn lately and know there are some issues at home.

On Thursday Zac told Kay his keyworker that 'Mummy didn't come home last night' and he looked quite upset. She gave him a cuddle and suggested they went to the book corner for a story. Kay found the book 'The New Baby' by Anna Civardi and they shared the story. Zac even got a little bit excited by the prospect of becoming a 'big brother'.

Later Kay added to Zac's ongoing 'event sample' observation record and ensured she shared this with the nursery manager. At the staff meeting later that afternoon, the information was disseminated to the team. Jodie, an HNC student, stated that Zac's Grandad had brought him in that morning and she didn't think anything of it. Kay explained that it was important to share anything which was out of the ordinary and keep a record of it for future reference. Jodie reflected on her actions and identified that she would be more aware of the children's demeanour as they came into nursery. It was agreed by the team that they would devise a 'feelings' chart with 'faces' for the children to self-select as they came in – this would help staff be aware of children's emotional state and support them accordingly.

Today Miss Cullen is coming to do some music with the children going up to P1 in August. The children are already aware of this as it has been added to the visual timetable and discussed at 'welcome circle time'.

At snack time Jodie notices that Zac is underneath one of the tables in the quiet room. She tries to get him to come for snack but he refuses to budge. Jodie finds Kay and enlightens her. Kay comes to find Zac and sits down on the floor beside the table. She chats to him and introduces him to a little puppet. Gradually Zac moves closer to her. He says he misses his mummy and his daddy. Kay asks him if he would like some fruit. Zac takes her hand and they go to the snack table. He pours out some milk and helps himself to apple. When he's finished he puts the waste in the compost and then curls up in the book corner where he falls asleep. Kay makes him comfortable and keeps an eye on him whilst reading to the other children. Later she explains the situation to Miss Cullen when she comes. Miss Cullen asks Zac if he would like to be the conductor of the orchestra! When Zac waves his baton all the children start to play. When he stops all the children stop. It quickly becomes a game and soon Zac is laughing as he is conducts the 'orchestra'.

Later when Grandad comes to nursery to collect Zac he tells him all about the orchestra and how much he likes Miss Cullen. Zac says he is looking forward to P1.

Scenario 3

Postnatal Depression

Since Molly was born 8 weeks prematurely, Sarah has been struggling to cope. Visiting the hospital every day for long sessions and coping with Zac's need for attention when she gets home have proved very challenging. Now Molly is home, Sarah is feeling exhausted and Jack is back offshore for the next six weeks.

Sarah is desperately trying to get into a routine with the baby as well as getting the children ready for school and it's not going well. Molly is not feeding properly and Zac is not sleeping. Consequently it is difficult to get him up in the mornings. Jess has been such a help to Sarah. She gets herself up and makes breakfast for both herself and Zac. She helps her brother get ready for school and usually makes mum a cup of tea. Sometimes when Sarah is particularly tired Jess gives Molly her feed – she has watched Sarah warm the bottle of prepared formula in a jug of boiled water and test it on her wrist.

When Joan and Dougie, Sarah's parents arrive to take the children to school in the morning, both Jess and Zac are ready and waiting. Sarah has time to bond with the baby and see to her needs as well as her own. The Health Visitor has been visiting everyday but now Sarah has to take Molly to the baby clinic for her weekly check-up and weigh in.

One morning Joan sees that Sarah is a bit distressed so she stays with her while Dougie takes the children to school. She makes some coffee and sits with Sarah who bursts into tears, saying she can't cope. Joan looks around and sees how messy the house is; the washing up is still in the sink from the night before; clothes are scattered all over the place and it hasn't been vacuumed for at least a week.

Joan hears Molly crying and brings her into the kitchen. She is still in her pyjamas and quite upset. She runs a warm bath and when she removes Molly's nappy she notices that she is very red and sore with Nappy Rash. She adds a bit of bath emollient to the water to help protect her delicate skin.

Once Molly is all clean and dry Joan puts her back to sleep in her pram and puts her out in the garden for some fresh air. Then she runs a bath for Sarah. Whilst Sarah is in the bath Joan does a quick tidy up and vacuums the house, she washes up and gets the baby's changing bag ready for going to the clinic. She notices Molly's Red Book (Personal Child Health Record) and quickly flicks through it noticing that Molly has lost some weight over the last few weeks. She decides to go with Sarah to the clinic.

At the clinic the Health Visitor advises Sarah on breast feeding and assures her that weight loss in the first few weeks is quite common for newborns. However after talking to Joan she makes a note of Sarah's general wellbeing and suggests she sees her GP to explain how she is feeling. It appears she has many symptoms of Postnatal Depression and the doctor would be able to prescribe something for her which would not harm the baby through her breast milk.

Later that day when Dougie brings the children home from school Sarah is sleeping and Molly is playing happily with Joan. The children are excited to be home with Grandma and Grandpa, so they all get ready to go to the park. On their return Sarah is still asleep so Joan makes the tea. When Sarah wakes up she is feeling much better and is able to get the children ready for bed herself.

Joan agrees to look after the baby for a few hours each afternoon so Sarah can catch up on her sleep. She also helps around the house and has created a little 'chores chart' for the children to help out too. By the time Jack comes home from work five weeks later, things are going pretty well.
×
Characters
---
Case study 1

Sarah

Sarah is married to Jack and the mother of two children and is pregnant with her third child. She has always been a working mum, she works as a learning support assistant at the local primary school. Sometimes she has to care for the children alone as her husband works off shore. Sarah is usually confident and quite independent. Sarah has a good relationship with her parents who live relatively close by and sees them regularly. After the birth of her baby Sarah struggles to cope and finds herself becoming more and more exhausted.

---

Jack

Jack is married to Sarah and the father of their children. He works as an engineer 'off-shore' and is frequently away from the family for weeks at a time. Jack's job makes him self-confident but when he is at home he often lacks motivation and purpose. Jack is eagerly awaiting the birth of his third child but is slightly concerned as he knows he will be away during the baby's first year and he is worried about how Sarah will cope with three young children on her own. Jack keeps in touch with Sarah via email and text when he can but often there is no Wi-Fi and communications are difficult.

---

Jessica

Jessica is becoming more independent as she gets older and is quite the 'little mother'. She loves to help around the house and supports her younger brother, helping him to get ready for school and with his homework. Jessica is doing very well at school and is very articulate. She spends a lot of time with her grandmother when she visits and enjoys telling her all about her day at school. Jessica is an avid reader and loves learning about faraway places and other cultures.

---

Zac

Zac misses Jack terribly when he is away and depends on his grandad for attention during this time. They get along very well and this helps Zac to cope and deal with his emotions. Zac enjoys nursery but is moving up to P1 in a few months. With dad away and the transition process underway at school, plus the impending arrival of a new baby, Zac is feeling very unsettled and he finds it hard to communicate his needs. He struggles to sleep at night, is often sleepy the next day and finds it difficult to concentrate.

---

Molly

Molly was born prematurely at 32 weeks. She spent the first 8 weeks of her life in the neo-natal care unit. She made good progress and is now at home with her family. Molly sometimes has feeding problems, is frequently hungry and cries a lot. She also has very short sleep times and this is having a profound effect on Sarah. Molly is calm when her grandmother holds her and is beginning to form a strong attachment to her.

---

Joan

Joan is Sarah's mother and grandmother of her three children. She is married to Dougie and they live relatively close to the family. Joan helps out where she can and is happy to look after the children for Sarah when Jack is away. Joan is in reasonable health and is part of the local community Ladies' Group. She helps to organise local events and has many friends in her village. In the light of recent events Joan has volunteered to help Sarah each day helping with the housework and looking after Molly. She prepares a meal for the children when they come home from school and always spends half an hour with Jessica before heading back home.

---

Dougie

Dougie has been married to Joan for 40 years. He is Sarah's father and the grandfather of her three children. Dougie has congenital heart disease and struggles sometimes. He has a strong bond with Zac, his only grandson. They spend a lot of time together when Jack is away at work. Dougie often plays golf with his friends but is now spending more time at his daughter's home taking the children to and from school each day.
×
Academic skills
---
The activities in these materials provide you with an opportunity to develop your academic skills. Academic skills, such as research and study skills, will help you become a more effective learner and achieve your full potential both in further study and in the workplace.
UHI Essential student skills provides access to information on academic skills as well as other skills and information that will be useful during your course of study and beyond. You can access information on:
assessment
becoming an effective learner
core skills
learning with us (uhi)
preparing for work
using technologies.
×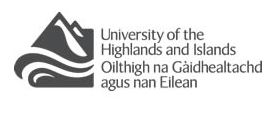 Information
Developed by the Educational Development Unit, University of the Highlands and Islands.
Disclaimer

Disclaimer

UHI provides links to external sources of information and may refer to specific Web sites, products, processes or services within this resource. Such references are examples and are not endorsements and whilst every effort is taken to ensure the accuracy of information provided UHI is not responsible for any of the content or guidance. You are advised to exercise caution.

Information on social media websites may also be provided. Staff using social media websites must comply with the University's social media policy. It is recommended that you fully understand the terms and conditions of use before using these sites and that you take steps to protect personal or sensitive data.

PDF version.

Navigation

The following icons will be found throughout these materials:

The sidebar on the right hand side of these resources will allow you to view associated materials for sections. Clicking an option will reveal a modal window which can be closed by clicking the 'x' in the top right, or anwhere outside the window itself.

The icons on the top header of these resources will allow you to view associated materials for sections. Clicking an option will reveal a modal window which can be closed by clicking the 'x' in the top right, or anwhere outside the window itself. Below is an overview of the icons used:
×