Dressage
Tack permitted

Tack permitted

This will depend on the level of dressage competition. The picture shown is from Gran Prix level. Refer to the rule book for appropriate tack for each level.

'Hanoverian mare Sunrise by Singular Joter, Rider: Imke Schellekens-Bartels from the Netherlands' by Nick from Wikimedia CC BY-SA 3.0

Other tack

Other tack

Other tack Martingales and bearing, side or running reins of any kind are forbidden.
Reins with elasticated inserts are not permitted,
Bandages, boots or any sort of blinkers are not permitted.
Tongue straps are not permitted.
Breastplates and breast girths are permitted. Cruppers are permitted but are not allowed for tests run under FEI Rules.
Neck straps or balancing straps (a loop on the front of the saddle) are permitted at all levels.
Hoof boots or any forms of shoe replacement which cover the bulb of the heel are not permitted during competition.
Rugs of any type my not be worn during a test.

British Dressage - Members Handbook 2015 (2016: 14)

British Dressage

Ruling Body for Affiliated British Dressage (BD) rule book 2016. Go to page 92 rule 137 'A quick guide to BD Rules' (2016: 14)
Bits used in a double bride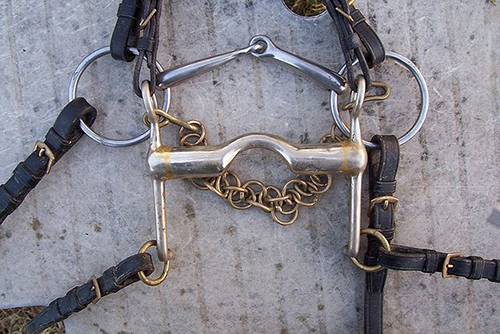 'A curb bit and a bradoon (double bridle)' by Alex brollo from Wikimedia CC BY-SA 4.0.
A double bridle, also a Weymouth bridle, is a bridle that has two bits and four reins (sometimes called "double reins"). One bit is the bradoon (or bridoon), is a modified snaffle bit that is smaller in diameter and has smaller bit rings than a traditional snaffle, and it is adjusted so that it sits above and behind the other bit, a curb bit. Another term for this combination of curb and snaffle bit is a "bit and bradoon," where the word "bit" in this particular context refers to the curb.
They are required for upper level FEI dressage tests (Prix St. Georges (PSG), Intermediare, and Grand Prix), and are optional in other tests – check the rules. They are also permitted in the dressage phase of eventing at the Intermediate or Advanced levels, although not required. (In eventing, even at the advanced level, snaffle bridles are still the norm.)
Taken from Wikipedia
×
Saddle and girth
Dressage saddle, showing deep seat, longer straight cut saddle flaps and long girth straps, used with a 'Lonsdale Girth' which allows closer contact between the rider and the horse through the saddle flaps. A white saddle cloth is generally used.
×

We welcome any comments on how to improve this unit. Please feel free to pass these on at any time.
If you have any difficulty viewing this resource please contact EDU (edu@uhi.ac.uk) with:
the name of the resource;
a description of the problem (please give as much detail as possible);
the section of the resource where the problem occurred;
your internet browser (you can check your browser version at: http://detectmybrowser.com/).
UHI provides links to external sources of information and may refer to specific Web sites, products, processes or services within this resource. Such references are examples and are not endorsements and whilst every effort is taken to ensure the accuracy of information provided UHI is not responsible for any of the content or guidance. You are advised to exercise caution.
×