Working hunter
Tack for working hunter classes should be plain in either dark havana or black leather, There are no restrictions on bits, martingales or nosebands.
Bridles should be plain with no bling or anything coloured. Rolled or padded browbands and nosebands are acceptable as long as they are all in the same colour eg: no white piping/padding.
It is important to note that there must be no change of tack between the jumping and flat/ridden phases, so if you decide to wear a martingale for the jumping, it must stay on for the whole class.
The exception to this rule is protective boots. Dark-coloured brushing boots are allowed for the jumping phase, but must be removed before the ridden judging. The inside of the boot must be smooth, the fixations must be non-elastic velcro and no hooks or straps may be used. The rounded rigid part of the boot must be placed around the inside of the leg. No hind boots or bandages are permitted in senior classes.
Numnahs  should match the tack, be kept close to the saddle and not interfere with the shoulder. They should be discreet and saddlecloths avoided.
Girths should be a dark colour, preferably leather to match the saddle.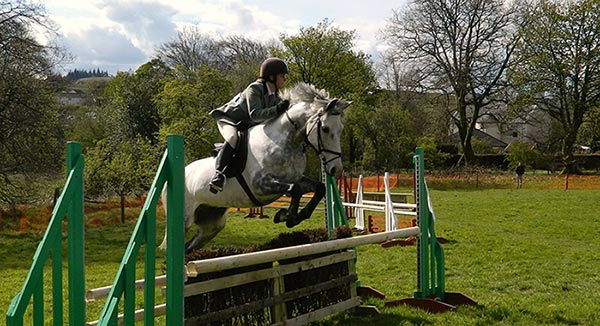 We welcome any comments on how to improve this unit. Please feel free to pass these on at any time.
If you have any difficulty viewing this resource please contact EDU (edu@uhi.ac.uk) with:
the name of the resource;
a description of the problem (please give as much detail as possible);
the section of the resource where the problem occurred;
your internet browser (you can check your browser version at: http://detectmybrowser.com/).
UHI provides links to external sources of information and may refer to specific Web sites, products, processes or services within this resource. Such references are examples and are not endorsements and whilst every effort is taken to ensure the accuracy of information provided UHI is not responsible for any of the content or guidance. You are advised to exercise caution.
×