Clean and check tack
All tack should be cleaned and checked for safety on a regular basis to preserve it, keep it comfortable for the horse and rider and to protect the horse and rider from unnecessary injuries.
Though the condition of your tack alone probably won't change the outcome of the class, judges do notice which exhibitors take the time to put that extra polish on their appearance.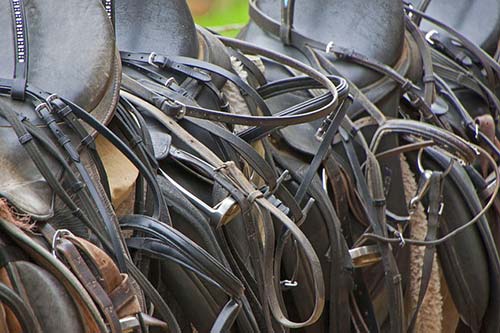 We welcome any comments on how to improve this unit. Please feel free to pass these on at any time.
If you have any difficulty viewing this resource please contact EDU (edu@uhi.ac.uk) with:
the name of the resource;
a description of the problem (please give as much detail as possible);
the section of the resource where the problem occurred;
your internet browser (you can check your browser version at: http://detectmybrowser.com/).
UHI provides links to external sources of information and may refer to specific Web sites, products, processes or services within this resource. Such references are examples and are not endorsements and whilst every effort is taken to ensure the accuracy of information provided UHI is not responsible for any of the content or guidance. You are advised to exercise caution.
×