Additional list for specific competitions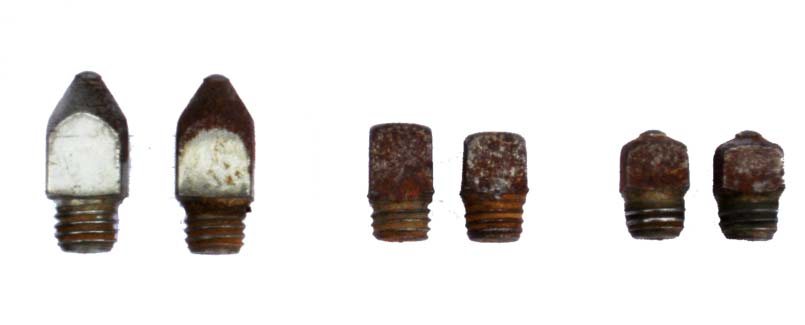 Types of studs

Types of studs

| Type | Description |
| --- | --- |
| Road studs | Used on hard surfaces, usually 4 or 6-sided, smaller in size and blunt. Can be used front or back, on the inside of the shoe or the outside. This type of stud is fine most of the time, unless the ground is incredibly muddy or slippery. |
| Blocks | Square in shape and best for soft, deep, muddy ground. |
| Bullets | Best for firm ground with a layer of soft ground on top. They are large and sharp. |
| Grass studs | Narrow and sharp to dig into hard, dry ground. They should only be used on the outside of the shoe, or just on the hind feet. |
| Olympic studs | Used for extremely slippery ground, very long and sharp. |

Plaiting kit

Plaiting kit

Click on the braided horse to reveal what's in the plaiting kit.

Plaiting spray
Plaiting comb
Elastic bands
Thread
Needle
Scissors
Stool to stand on

Other items

Other items

Quarter marker stencil
Ice packs or leg cooling wraps to cool tendons
Stable bandages to hold leg dressings in place
Event grease for cross country
Electrolytes in paste form (syringe)
Appropriate tack – may also include stud guard, martingales or breastplates, ear protectors, coloured browbands, additional bridles /saddles as for eventing.
Stud kit
Boots

Potential Olympic Competitor... by Gilbertson from Wikimedia CC BY-SA 2.0

Endurance grooms

Endurance grooms

Endurance grooms will need to pack extra as the riders need to carry supplies with them on their horse in the pommel and cantle bags. Items such as:

water for the rider;
sponge so that the rider can wash the horse down in any streams etc to cool them en-route
hoof pick
ride card
electrolyte for the horse in a syringe form
snacks for the rider
hoof boot if horse loses a shoe.

It is up to the rider what they carry except that it is mandatory that they carry a hoof boot and their ride card. They will not want to carry any unnecessary equipment as it adds to the weight which will ultimately affect the horse's performance.

We welcome any comments on how to improve this unit. Please feel free to pass these on at any time.
If you have any difficulty viewing this resource please contact EDU (edu@uhi.ac.uk) with:
the name of the resource;
a description of the problem (please give as much detail as possible);
the section of the resource where the problem occurred;
your internet browser (you can check your browser version at: http://detectmybrowser.com/).
UHI provides links to external sources of information and may refer to specific Web sites, products, processes or services within this resource. Such references are examples and are not endorsements and whilst every effort is taken to ensure the accuracy of information provided UHI is not responsible for any of the content or guidance. You are advised to exercise caution.
×