Show jumping
Ruling body for affiliated show jumping is British Show Jumping. Visit page 100, Section 2, Item 102.
'The British show jumper Michael Whitaker and Tackeray...' by cladiogennan from Wikimedia CC BY 2.0
Stud guard
Stud guard used in show jumping to protect the horses belly from being struck by the underside of the horses hooves when jumping. Many horses will wear studs in their shoes to give more grip to the ground when jumping – these studs have to potential to injure the horse when they fold their front legs when jumping.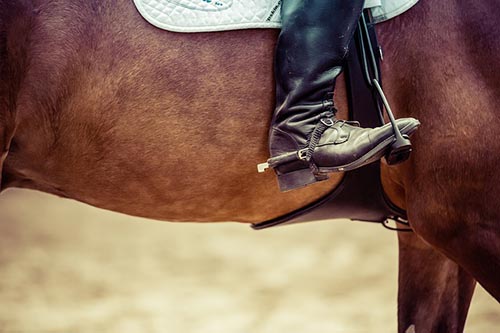 'Stud guard' by markusspiske from Pixabay, CC0.
×
Front tendon boots
Open fronted tendon boots used for show jumping. These protect the tendons while leaving the front of the leg more exposed.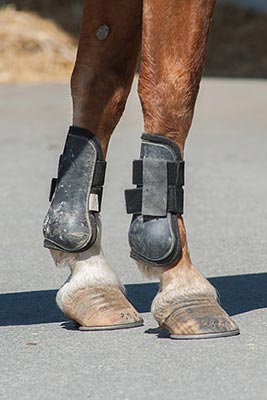 'Haras national Avenches' by Ludovic Péron from Wikimedia CC BY-SA 3.0.
×
Show jumping saddle
Show jumping saddle showing forward cut flaps to allow shorter stirrup length and flatter seat to allow jumping position.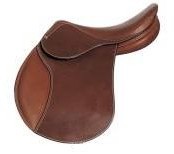 'Selle de saut d'obstacles' by Bloody-libu, Wikipedia Public Domain.
×
Fetlock boots
Fetlock boots commonly used on back fetlocks to prevent injury.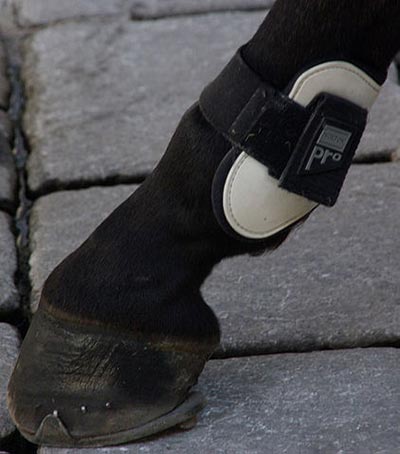 'Protections du cheval - protège boulet' by Blood1976, Own work. Wikipedia CC BY-SA 3.0
×
Martingale
Many designs of martingales are available. The image shown here are of a running martingale which prevents the horse putting their head up too high but does not interfere with normal movement when fitted correctly.
More information
Breast plates and breast girths are also used. They help to prevent the saddle slipping back when the horse is jumping or galloping. Follow these links for more information.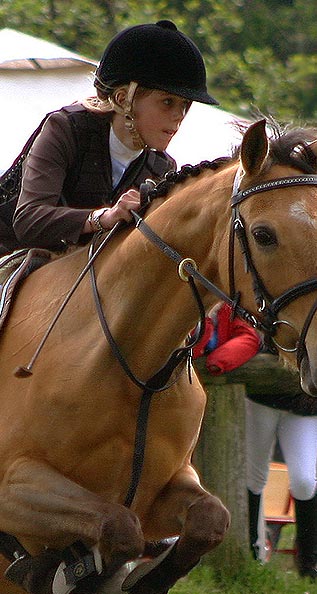 'Baltic Cup Shannon Mejnert Sandy1' by Malene Thyssen, Wikimedia CC BY-SA 3.0.
×
Other tack which is commonly used but not shown in the annotated photograph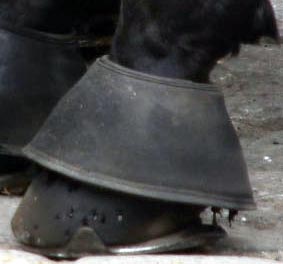 Protection d'un cheval - cloche by Blood1976 - Own work from Wikimedia, CC BY-SA 3.0
Overreach boots come in many designs but the main aim is to protect the bulbs of the heel from overreaching which can happen more easily when the horse galloping or jumping.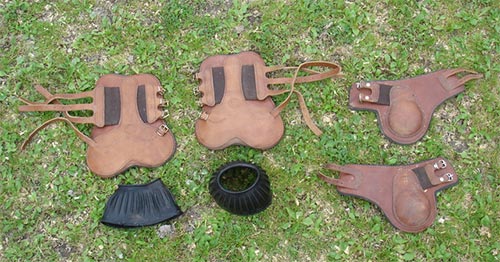 Guêtres, protèges-boulet, et cloches de CSO. by Maloq - Own work from Wikimedia, CC BY-SA 3.0
Leg Protection for show jumping showing tendon boots, fetlock boots and overreach boots.

We welcome any comments on how to improve this unit. Please feel free to pass these on at any time.
If you have any difficulty viewing this resource please contact EDU (edu@uhi.ac.uk) with:
the name of the resource;
a description of the problem (please give as much detail as possible);
the section of the resource where the problem occurred;
your internet browser (you can check your browser version at: http://detectmybrowser.com/).
UHI provides links to external sources of information and may refer to specific Web sites, products, processes or services within this resource. Such references are examples and are not endorsements and whilst every effort is taken to ensure the accuracy of information provided UHI is not responsible for any of the content or guidance. You are advised to exercise caution.
×