Hacks, riding horses etc. plus lead rein ponies
Double bridles are preferable except in novice classes. The bridle should be a finer bridle with velvet, ribbon browband to complement the horses colour and the rider's jacket and tie.
A hack class. Note the cut of the saddles to show off the horses' shoulders to the best advantage and the type of bridles used. The browbands are ornate and the width of the leather chosen to enhance the horses face.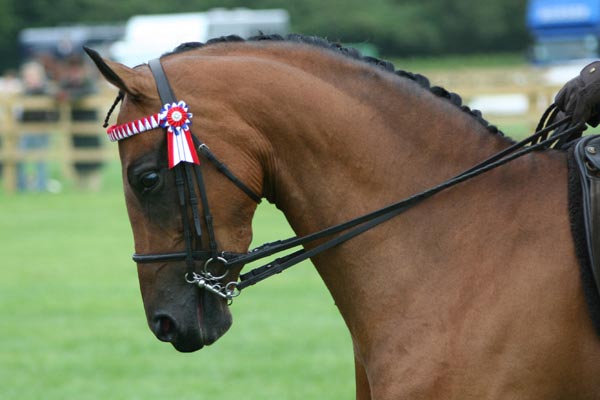 Showing at the Herts county show with double bridle by Thowra_uk from Wikimedia CC BY 2.0
Riding Horse with double bridle, narrow noseband and velvet browband.
Lead rein ponies and first ridden ponies
A snaffle bridle is compulsory, lead reins should be clipped to the noseband.

We welcome any comments on how to improve this unit. Please feel free to pass these on at any time.
If you have any difficulty viewing this resource please contact EDU (edu@uhi.ac.uk) with:
the name of the resource;
a description of the problem (please give as much detail as possible);
the section of the resource where the problem occurred;
your internet browser (you can check your browser version at: http://detectmybrowser.com/).
UHI provides links to external sources of information and may refer to specific Web sites, products, processes or services within this resource. Such references are examples and are not endorsements and whilst every effort is taken to ensure the accuracy of information provided UHI is not responsible for any of the content or guidance. You are advised to exercise caution.
×